about the project
The Memory Table is a deceptively simple "social" installation that presents the façade of an everyday café table – but with a video and sonic "mirror". Modeled after human memory processes and forgetting, and applying the musical concept of granular synthesis to visual imagery the Memory Table records fragments of life at a café table and projects back a seeming mirror (that actually consists of up to a dozen layers of past "memories" merged with the present). As time passes the table constantly re-writes both the immediate present and fragments of the recent and far past based both on chance operation and patterns of its past and future interactions.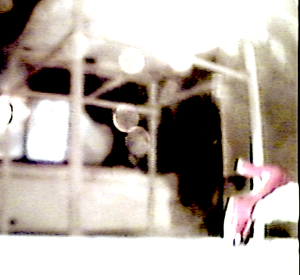 An expanded devised performance version  (Character A) of the project is currently under development with choreographer paige starling sorvillo and composer Evelyn Ficarra with work in progress showings Sept. 6th at the Milkbar, September 7th, 2013 at the Center for New Music in San Francisco, and continuing to University of Sussex (Brighton, UK) September 24th, 2013.
documentation excerpt from v2 -Attenborough Center for Arts, Center for New Music – SF and The MilkBar, Oakland. September 2013.

Early installation versions were developed at EMPAC in August 2010 and presented as a short term installation as part of the Dance / technology and the social conference at MIT's new media center in March 2011.
Physically the installation consists of a café table with objects (many of which have enticing acoustical & percussive qualities to them) scattered about. A small intimate-feeling screen wraps the two sides of the table. Two chairs suggest the possibility to sit down. Facing the viewer is a projection of himself or herself and the table recorded live with a pinhole camera. At the same time the video mixes in flashes of what's happened before the viewer arrived.
Early work in progress showing at theater of Yugen, san francisco / Sound is the movement series. 31 October & 1 November, 2011.
with : evelyn ficarra – sound; megan nicely & claire willey – performers