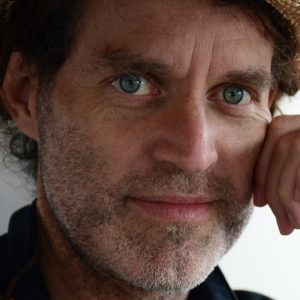 Ian Winters is an award-winning media and performance artist who often collaborates with acclaimed composers, directors, and choreographers to create both staged and open-ended visual and acoustic media environments in performance. In recent years he has received commissions from EMPAC, Rainin Foundation and the Creative Work Fund and also worked with artists such as Francis Ford Coppola, the Los Angeles Philharmonic, the Britten Sinfonia, opera director Netia Jones, choreographer Brenda Way/ODC, pianist Myra Melford, and many other US based artists.
He maintains an active worldwide teaching practice leading workshops in live media and the integration of sensors, physical performance and site-based pieces. He studied video and performance at the School of the Museum of Fine Arts & Tufts University, followed by training in dance / physical theater and architecture. He is also the co-curator of Oakland's MilkBar with Mary Armentrout and a visiting research fellow at the University of Sussex.
Recent awards include a Creative Work Fund grant for The Tides (Watershed) project, repeated Isadora Duncan Awards for visual and video design, a 2016 Master Artist residency at Atlantic Center for the Arts along with residencies at EMPAC, Djerassi, University of Sussex (UK), and Earthdance; Rainin and Zellerbach foundation funding,  2013 and 2014 ISEA panelist on sensor driven and network performance, Leonardo LASER presentations, 2012 & 2014 LAD awards for video design, and 2012-3 Isadora Duncan Award nominations for best visual design.  In addition he teaches workshops in interactive video / sound, and has been a visiting artist / conference presenter in  media & performance at many institutions including USF, SF State, MIT, Mass Art, LSU, Roehampton, Brighton, Amherst, Duke, Sussex & Brunel.
Recent collaborators and media projects include projects with Myra Melford, Van-anh Vo, Chitresh Das Dance, Netia Jones, Francis Ford Coppola (designing the custom Isadora playback system for Twixt), Robert Moses Kin, ODC Dance, Alice Arts, Pamela Z, Evelyn Ficarra, paige starling sorvillo,/blindsight, Sara Kraft, Mary Armentrout Dance Theater, Shadowlight Puppet Theater, Gamelan Sekar Jaya, and others. Recent work screenings, performances and video / media design projects  include venues such as Kennedy Center, Lincoln Center, The Barbican, Zero1 Gallery, London City University, the Port of Oakland, The Luggage Store, Sergei Kuryokhin Modern Art Center, Moscow Conservatory Electro-acoustic Center, I-Park Artist's Enclave, Journées de l'électroacoustique, Paris, YBCA, ODC, Z-Space/Theater Artaud, The Asian Art Museum SF, The Kitchen, POTO Arts Festival, EMPAC, MIT New Media Center, Mass art, London Cutting Edge Festival, Oxford & Corsham music festivals, Moving Baltic Sea Festival and OPEN Cinema Festival in St. Petersburg, CounterPULSE, CNMAT, Highways, The Parkway Theaters, Hertz Hall at UC Berkeley, LA Freewaves festival, 21 Grand, Dance Mission and more. www.ianwinters.com
Production support and management work is provided by 37 North, Inc.