The Memory Table v2 : mnemonics devise Character-A (yellow) with a side of chance
work in progress / incubator showings
++ Friday September 6th, 8pm @ MILK BAR, OAKLAND
++ Saturday September 7th, 8pm @ CENTER FOR NEW MUSIC, SAN FRANCISCO (curated by Linda Bouchard)
++ Tuesday Sept 24th, 6pm @ CROMT, University of Sussex (Attenborough Center for the Arts, Creativity Zone), BRIGHTON UK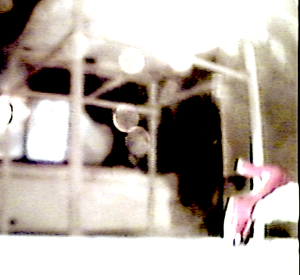 We are slowly reverse-engineering Character A from fragmentary evidence found within the habit field of the memory table.  In the absence, or a room, we are building a visually and sonically responsive environment whereby to study the permeable, uncertain, contingent and social nature of our own memories as well as the premise that core parts of our identity and relationships are formed in the most quotidian of environments, often by chance.
As we build, your feedback is, per se, welcomed, nay, invited and/or demanded, demurely.  By that, we mean, please come talk to us after the show, we are friendly and don't bite and would like it very much.
Nota Bene:  Our current work on Mnemonics… is the explosion outward/inward of Ian Winters' original Memory Table installation which was/is: a deceptively simple "social" installation where viewers interacting with an everyday table experience a visual and sonic mirror of their own present-tense experiences merged with table's fragmentary/re-written "memories" of all the pasts that have transpired at this same table.
Our current work has been graciously supported by Zellerbach Family Foundation, NexMAP / Center for New Music, The MilkBar, and the University of Sussex