TIDES: San Francisco Bay re-opens
March 12th through April 9th (part of the MilkBar 50: mudflat show)

At the Milkbar 241 A South 1st St Richmond, CA

EVENTS:
Performances: March 12th and April 9th (3p, 5:30p, 8p)
Gallery Installation Hours
Tues / Fri March 12th through April 9th, 2022

TIDES is a video and photographic installation and accompanying performances by media artist Ian Winters, exploring the rapidly changing tidelands of San Francisco Bay and the neighborhoods soon likely to be lost under rising waters. This 3 channel video and 6 channel sound installation remounts the March 2020 premiere at SFArtsED Gallery at Minnesota St. Project, which was delayed by Covid in 2020.
The TIDES project encompasses video installations and photographic prints by Winters, with a new sound score by composer Wayne Vitale, and a live performance (at a date to be determined) with music by Brian Baumbusch. This single channel video adaptation of TIDES reframes Winters' multi- channel video installation as a left / right split screen, along with hints of the floor and map projections and prints seen in the gallery.
Built in 24 sections, the video and music echo our historic connection to the tides, and follow three full cycles of the Bay's twice daily tide cycle with the tidal level (rising, full, falling, slack) as fundamental organizing principle.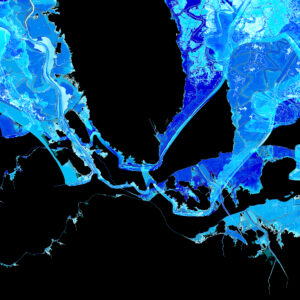 The visual material was captured over a period of a year, from fixed cameras and during 30+ days of walking around the San Francisco Bay, through neighborhoods and land below five meters in elevation – lands that will likely be inundated in decades to come because of climate change. Informing both visuals and music are compositional patterns drawn from a range of scientific data about the Bay and its intersection of human-natural systems – in particular, of course, the rhythms of the tides themselves. TIDES is structured as a meditation on the intersection of the tidal rhythm of 24 hours and 50 minutes and the light rhythm of 24 hours. The mathematics of the intersection of these two fundamental global patterns underpins the compositional structure of both musical works and installation.