Leonardo Art Science and Technology Festival at Zero 1 – June 6th, 7th 2014
Friday June 6th, and Saturday June 7th 2014 I'll be showing two pieces (a first public version of Horizon-Line and the Vigil) as part of the Leonardo Art Science and Technology Festival at Zero 1 in San Jose.
Opening is Friday, June 6th, 6pm to 11pm.
Zero 1, 439 S. 1st St. San Jose
All the details are on the Zero1 website – http://zero1.org/events/LAST.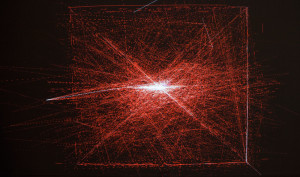 In addition to a fantastic set of installations, Saturday afternoon the festival will be hosting a range of speakers at the intersections of art, science and technology.
the brief details are:
The exhibition will celebrate the confluence of art with the multiplicity of new media technologies and nascent sciences that are transforming sociality and experience in the 21st century. Notable installations include David Glowacki's Danceroom Spectroscopy (already exhibited at various locations in Europe), Brent Townshend, Wes Modes, and Lanier Sammon's "Co-related Space" (a collaboration between a digital artist, a experimental musician and an engineer), Erich Richter's "Chant" (for reflecting pool, partially submerged speakers and spoken-word), Ian Winters' LED sculpture "Horizon Line", Peter Foucault's drawing robot "Attraction/Repulsion: Longwave", Kinetech's interactive video installation "Time Bubble", Emily Martinez's "AntiApocalypse" for brainwave rhythms, Yuan-Yi Fan's "Qi-Visualizer" for mobile biometrics, plus a performance by Kate Harrington and Eve Warnock, etc. These projects attempt to engage in more nuanced forms of audience engagement, building upon the avant-garde artistic program that co-evolved with the social upheavals of the 20th century, while assimilating theories and tools developed through the various fields of science and technology in recent decades.
LAST is organized by Piero Scaruffi, produced by Adam Carlin and Erich Richter.
LAST Schedule and Hours:
Friday, June 6 from 6pm till 11pm: Interactive Art Installations
Saturday, June 7 from 1pm till 6pm: Tech/science talks
Saturday, June 7 from 6pm till 11pm: Interactive Art Installations
LAST Symposium Schedule:
1:00 pm Piero Scaruffi, Cultural Historian and L.A.S.E.R. founder, on Creativity and the Bay Area
1:30 pm Peter Norvig, Director of Research at Google on Artificial Intelligence
2:30 pm Daniel Kaufman, Director of the Information Innovation Office at DARPA, on DARPA's high-tech projects
3:30 pm Jennifer Dionne, founding director of the Stanford Nanotech Lab
4:30 pm Chris McKay, Chief Planetary Scientist at NASA Ames, on Space Exploration and Life in the Universe
5:15 pm Alvy Ray Smith, Co-founder of Pixar, on Graphics/Animation