TIDES : San Francisco Bay
NEW shelter in place project portal at
POSTPONED TIL FURTHER NOTICE
March 7th -28th, 2020

AT MINNESOTA STREET PROJECT, SFArtsED Gallery
1275 Minnesota Street
San Francisco, CA 94107
EVENTS:
Artist's Talk: 6:00p Saturday, March 7th
Opening Reception: 4p-8p Saturday, March 7th
Live performances 8:00p Friday March 20th and 21st (tickets)
Gallery Installation
March 7th – March 28th
Tues-Fri 11a-4p, Sat 2p – 6p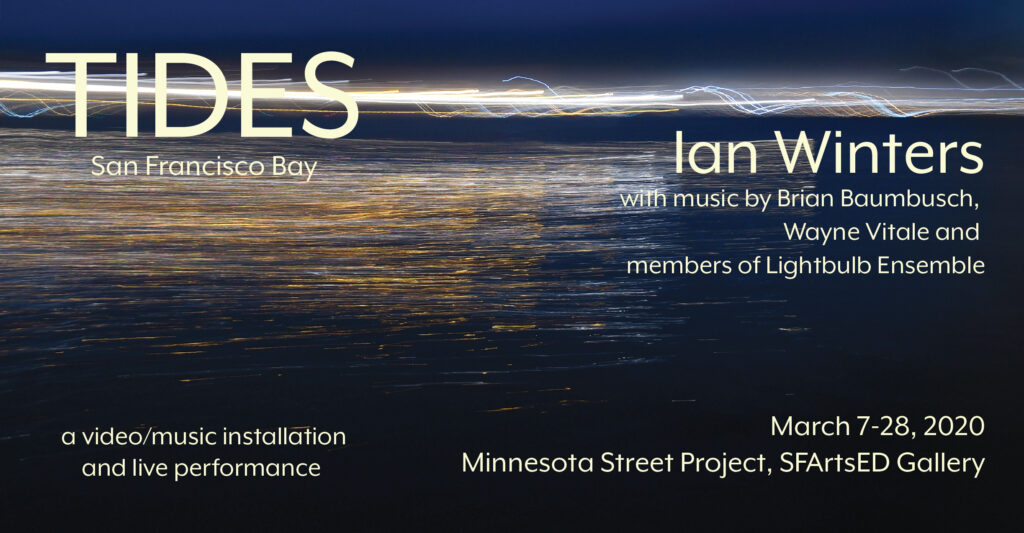 TIDES is a new video and photographic installation and accompanying performances by media artist Ian Winters, exploring the rapidly changing tidelands of San Francisco Bay and the neighborhoods soon likely to be lost under rising waters. The gallery installation opens March 7, 2020, and marks Winters' return to the SFArtsED Gallery at Minnesota St. Project, following the success of his month-long 2018 installation, Summer, Winter, Spring.
Continuing Winters' exploration of the intersection between video, contemporary music and performance, TIDES features a live video and contemporary music performance in the Minnesota Street Project Atrium on March 20th and 21st at 8pm. It features new combined video and music created by composers Brian Baumbusch (live performance) and Wayne Vitale (installation) along with video by Winters, and is performed by members of Lightbulb Ensemble and guest players including McKenzie Camp, Jennifer Ellis, Otis Harriel, Matt Ingalls, and Margaret Halbig.
Informing both music and visual material are compositional patterns drawn from the range of scientific data about the Bay and its intersecting human-natural systems, such as NOAA oceanographic data, GIS models of tidal levels and sea level rise, species occurrences, as well as human factors. Much of the TIDES data was created by a unique collaboration with the citizen scientists of Oakland's WHOLLY H20, gathering species data about Bay's shoreline through BioBlitz events documented through the Cal Academy of Science's iNaturalist app.
Performance details
Friday, March 20, and Saturday, March 21, 2020, at 8pm is an immersive multi-channel video-media performance in four movements, with Winters visual work l accompanied by music by Brian Baumbusch and Wayne Vitale, performed by members and guests of Lightbulb Ensemble including McKenzie Camp, Jennifer Ellis, Otis Harriel, Matt Ingalls, and Margaret Halbig at Minnesota Street Project.
The first part of the performance journey begins in the video and photo installation in the SFArtsED Gallery of imagery from the 40+ days of walking as well as a study corner around the science and climate change aspects of the project. Minnesota Street Project and SFArtsED Gallery will be open all day on performance days as well as post-show, so you are encouraged to arrive early and spend time in the installation.
dates, events and gallery hours:
4–8pm, March 7, installation opening reception (free)
6pm, March 7, Artist Talk (free)
SFArtsED gallery hours are Tuesday–Friday 11am–4pm and Saturday 2–6pm (free)
LIve performances 8pm, March 20 and 21.  (ticketed)
Student visits and additional talks to be announced or by appointment. contact SFArtsED Program manager, Mia Waller
tickets
The March 20th and 21st live performances will be at 1275 Minnesota Street in the main building of the Minnesota Street Project and are ticketed. Tickets for the performance are $25 (reg), $15 (fixed income/NOTA policy), and $50 arts supporter tickets and are available on eventbrite https://tidesperformance.eventbrite.com
All other events and the gallery installation are located in the SFArtsED Gallery on the 2nd floor and are free and unticketed.
1 minute single channel teaser

funding credits

TIDES was produced at the MilkBar, through a citizen-science collaboration with the citizen-scientists of WHOLLY H20's Waterhood program, made possible in part by a grant from The Creative Work Fund, a program of the Walter and Elise Haas Fund that also is supported by The William and Flora Hewlett Foundation. Tides is also supported by the Djerassi Resident Artist Program, the 37 North media production support program and the generosity of many private donors.
Press information and additional details